Dixon Soccer Club - Recreational League

2020 Fall Season Suspended
The Dixon Soccer Club and Sacramento Youth Soccer League (SYSL), our parent organization, places a top priority on the health and safety of our players, families and volunteers. Due to the resurgence of the COVID-19 pandemic cases, the revised mandates instituted by State, County, and Local government officials, the DSC and SYSL boards have made the difficult decision to suspend the Fall 2020/21 recreational youth soccer season.
We will continue to review and consider alternatives such as soccer camps or soccer clinics in accordance with State and local guidelines. We will provide updates if we are able to provide some form of soccer in the upcoming months.
Thank you all for your continued support. Please stay safe and healthy.
Recreational Soccer Tournaments
District VI Cup - More information at http://teamsideline.com/districtcup

Founders Cup - More information at https://calnorth.org/apply-junior-cup-festival/

Field Map
U6 & U8 Game Schedules and Rules
The following documents are availalbe for download:
U6 Game Schedule - Not yet available

U8 Boys Game Schedule - Not yet available

U8 Girls Game Schedule - Not yet available
Thank You!

A big thank you to our 2018 U6 sponsors:
S Todd Comm DDS
Charles King
Gli-Co Farms

Fairway Independent Mortgage Corp.

National High Voltage Services, INC.

Tupperware
Competitive League - Dixon SC Leon

For additional information, click on the logo.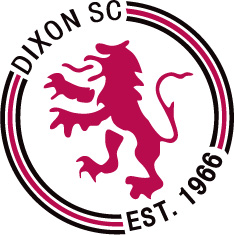 Board Meetings
The DSC Board meets monthly on the third Tuesday of the month at 7:30 pm.
The DSC Annual General Meeting is held during the February board meeting.
If you are interested in attending, please send an email to president@dixonsoccerclub.com for Zoom login information.
Contacting the Dixon Soccer Club
If you would like to contact any of the Dixon Soccer Club board members please send an email, thank you.

Rainout Information
Dixon Rec Games at Northwest Park.
Rainout Hotline (707) 678-8799
Coaches: Call and listen to the recorded message for playing status for Dixon Rec Games at Northwest Park.

Sacramento Parks and Rec Field Status Line
Field Status Hotline: (916) 277-2336
Coaches: call on Sat mornings if it is raining prior to leaving Dixon. Please call three (3) hours prior to scheduled field use to establish if the City has closed fields due to rain. This applies to parks AND schools.


Mailing Address
Dixon Soccer Club
P.O. BOX 1045
Dixon, CA 95620